Infrared Fever Warning System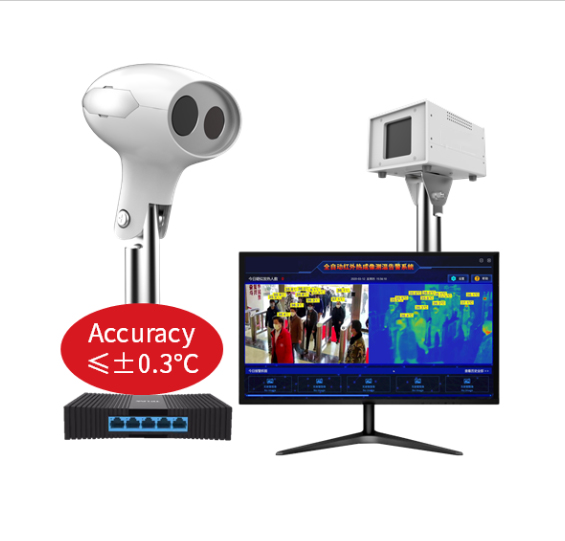 IR Fever Warning Systems are applied to mass fever screening in crowded public places, which help to detect people with a potential fever and may contain or limit the spread of the virus through identification of infected individuals showing fever symptoms. It combines advanced technology such as thermography human body temperature measurement algorithm and AI intelligent face recognition to make the equipment accurate and easy to use.

The system equipped with various powerful functions. Multi-target tracking can ensure that no targets are missed. Custom warning zones and high-temperature shielding settings can avoid interference from other high-temperature objects. When detect the febrile people, it supports automatic warning, tracking and photo taking for storage which is convenient to query and classify management. It is the ideal equipment for epidemic prevention in public places such as airports, stations, factories, schools, and commercial centers.
Features
o Adopts 400x300 infrared uncooled Vox detector
o AI deep learning algorithm based on neural network, more accurate temperature
measurement and lower false warning rate
o Accurate single-point and multi-point high temperature auto tracking and warning
o Equipped with black body, real-time temperature calibration, higher accuracy
o Face recognition detection function, more intelligent
o Stand-type, easy to move, standard PC with powerful analysis software
o Large-scale temperature screening of airports, railway stations and more.
o Control and reduce the spread of virus with fever symptom, such as Ebola, SARS
and Zika, Novel Coronavirus…
Find the fever people precisely and alarm automatically
· With advanced infrared thermal imaging technology, inspect wide and large area flowing crowds, distinguish those who with elevated temperature and alarm immediately

Razor-sharp visual and thermal imaging
· It is used UFPA 384*288 pixels detector and digital signal transmission, keeps delivering razor-sharp thermal imaging video and visual video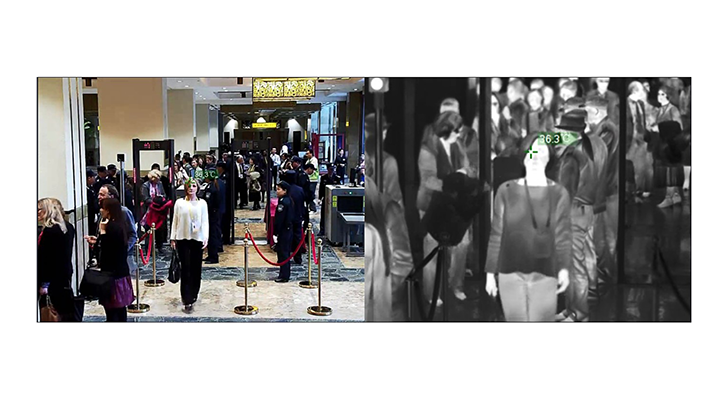 Real-time high-frequency data capture transmission and storage
· With digital signal transmission and 25Hz PAL/NTSC frame frequency, it could capture real-time video and display without any delay
· Powerful software management and analysis functions

Precise single point and multi-point high temperature automatic tracking alarm
· Intelligent object differentiation avoiding false alarm and interference
· It alarms to the person's face if with high temperature, and will never be affected by other high-temperature small objects like cigar or hot food
· Face recognition detection function
· Low temperature detection and tracking device alarm function

Application of Online IR fever sensing Analysis system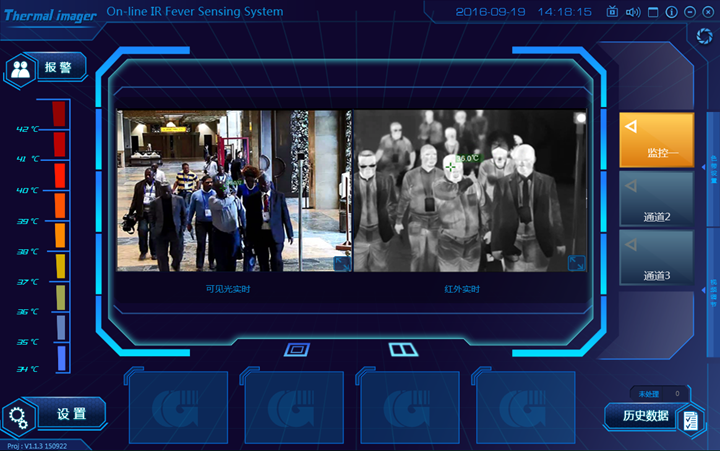 Parameter

Category
Item
Specification
IR detector
IR resolution
400×300
Pixel size
17μm
NETD
≤40mK
Focal Length
9.7mm
FOV
38°*28°
Frame Rate
25Hz
Visible Camera
Resolution
2 million pixels
Temperature Measurement
Range
-10℃~50℃
Accuracy
≤ ± 0.3 ℃ (ambient temperature 16 ~ 32 ℃)
Calibration
Built-in shutter and external black body, automatic calibration after selecting mode
Software functions
Parameter settings
Warning switch and warning threshold value, number of warning targets, warning photos automatic clearing, shielding fixed high temperature objects
Face recognition
Intelligent face recognition, Supported from V1.0.9.0
Real-time preview
Real-time preview of visible and thermal image
Automatic tracking
Support automatic tracking for over-temperature target
Automatic warning
Tracking, warning and photo capturing for the fever people; Warning while the Black Body is blocked.
Historical record
Support query, classification and deletion of historical warning screenshots
Network communication protocol
HTTP、RTSP
Environmental adaptability
Work Temperature
-10 ~ 50 ℃ (ambient temperature 16 ~ 32 ℃)
Storage Temperature
-20 ℃ ~ 60 ℃
Work Humidity
<90% (non-condensing)
Shock
30g 11ms, IEC60068-2-27
Vibration
10HZ ~ 150Hz ~ 10Hz 0.15mm, IEC60068-2-6
Black body
Blackbody target surface uniformity
≤0.1 ℃
Temperature stability accuracy
≤ ± 0.2 ℃ (single point)
Camera head interface
Network interface
Two-way, visible light 100M, infrared 1000M
Camera head power
Input voltage
DC 12V
input power
≤12W
Packaging specifications
Camera head size
173mm×184mm×212mm
Total height (including stand)
2200mm
Camera head package
510mm× 440mm × 270mm (subject to actual delivery)
Total weight
≤45kg (subject to actual delivery)
Applications
Airports, railway stations, subway
stations, hospitals, supermarkets,
factories, schools and other places
with large flow of people
suggested channel width is 3~5
meters, orderly pass-by.
Suggested distance: 2 ~ 8 meters
Delivery time:
sample order: 7 working days
10-100 kits: 15-20 working days
Warranty: 1 year
Please don't hesitate to send us inquiry.
Contact: Nick Huang
Email: nick@eastyletech.com
Skype: nicky_hdj
Whatsapp/Wechat/Mobile: +8613265680731